NOIR NOTEBOOK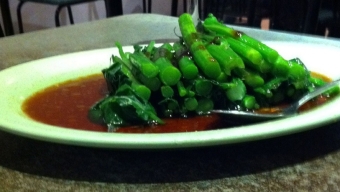 If there are two universal truths in this world, they are as follows: The person you love will never, ever love you back as much as you love them* and you can always trust a Chinese Malaysian restaurant if there is a box of tissues on the table.
There's a lot of tissues on the tables at Golden Fang.
I noticed Golden Fang on a walk from Glebe to Redfern to pick up my car from Coles where I had left it overnight. Noting the name I trudged on in spiteful rain to be greeted by the sight of a Sydney City Yellow Envelope of Fuck You on my windscreen. Do not park at Redfern Coles overnight.
Next time "Fangs" (I'm informed by local pinkos that this is what I must refer to it as) caught my attention it was in a Sydney Street Food blog online journal authored by a pair of ramen boffins. If you haven't been to their blog stop reading this rubbish and check it out. I doubt these two chiefs do anything else but play Skyrim all day while flying around in a Tardis carved from George Coulambaris's neck fat reviewing Asian cheap-eats (with the occasional pide house thrown in for good measure). They know their shit and the world is better for it. Golden Fang is given high praise and I figured that I too needed to consume a giant sized plate of chinese broccoli for $4.50.
So I did. And it was very good.
More places need to offer infinite amounts of free tea – table water is for chumps. Although most nursing homes offer free Kleenex and Tetley's to residents and guests, Ultimo quirk master Peter Berner doesn't nominate Artamon Aged Care as the place he would visit for his last meal – he nominates Golden Fang. I know this because adorning the walls are no less than three original copies of the same "20 Questions With…" article featuring the Gallifreyan goober from some sort of weekend lift-out. I don't have a data set on Berner's visits to Fangs to compare with the Einstein Factor shooting schedule but I hypothesise there maybe some synchronisation.
The prawn toast ($6) is less toast and more silky prawn meat that hangs stalactitly from the roof of golden triangles. I could eat it all night. Steamed dim sims ($4 for four) don't disappoint and the hot and sour soup ($4.50) is an earthy gravy of meat and vegetables that would not be completely out of sorts at a Hertfordshire pub.
There is a poster on the wall suggesting various cold dishes like pigs ear, sliced tripe and jellyfish however despite numerous visits none of the those items have ever been available. No matter as it's all about the pork dumplings anyway ($8.50 for fourteen). They even get their own little corner of the menu and rightfully so. These gyoza style pillows of pig are as addictive as a smack filled slot machine and although there's a googillion of them on the plate, they're thankfully not too filling. This is good because the mains don't mess around.
You can smell the cumin beef ($13.50) before you see it. It's a dish that's not afraid to sit up and say hello right before it sucker punches you in the nose and absorbs the blood with more Spice than Top of the Pops circa 1996. There is a little forewarning with the sliced fish in chilli oil ($18) when the waitress asks if I'm sure I want to order it as there are "a lot of crazy peppers". She wasn't talking it up either – the ten acres of Sichuan peppers occupying the four litre lasagna dish the basa fillets are served in make for a meal so numbingly hot that finishing it was never on the cards – although the one quarter I could consume made for a pretty fun, albeit intense, ride.
If you're after fish with a bit less vigour try the whole salt and pepper flounder ($22.80) with generous heapings of fresh chilli, lemongrass and ginger. Too light for the winter months? Then why not the duck soup with pickled vegetables ($9.50), Sen Tung chicken that's a hodge podge of stodge ($13.80) or artery destroying deep fried bean curd stuffed with ham ($15.50). Oh, and feel to grab an oyster sauce drenched side chinese broccoli ($4.50 / $9.50) to accompany the feasting.
But if there's one menu item you absolutely, unequivocally have to order it's the deep fried pork chop in lemongrass ($14.80). This sweet and succulent swine would have Four in Hand's Fassnidge furiously frothing over its crisp golden coating and tender blossoms of fat. It is a many splendid thing.
Fangs lets you BYO (I don't believe there's a corkage, either) and if in the course of the evening you need to use the facilities be sure to take a packed lunch. The bathrooms are way, way, waaayyyyy at the back of the restaurant, through the kitchen, past the storerooms, down an alley way, up some stairs and then a sharp left when you get to the Triad betting ring. No time for love, Dr Jones. It's okay though, because when you return from Shanghai there's a plate of orange wedges to great you. Score!
Fangs is open until 10pm seven days a week and located right next door to the Lansdowne – therefore making it perfect to devour pork with bitter melon and black bean ($13.80) before throwing up it back up in your girlfriend's handbag as your mates cover Belladonna era Anthrax on stage.
*but never, ever give up.
Golden Fang – 10 City Road, Chippendale NSW, 2008.
Words & photos by Alfred Ciggers.
Share
About Author
(0) Readers Comments