NOIR NOTEBOOK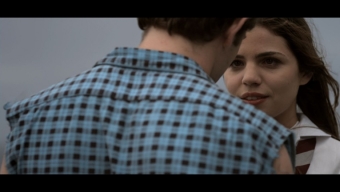 Daniel Smith: How did you get in to filmmaking?
Kate Vinen: I always loved the power of stories. I remember my mother reading me stories and poems before bed and I was utterly captured by the images they would invoke inside my head. I always had an overactive imagination and was attracted to stories that inspired deep emotions. I wonder if it's linked to hearing stories from my grandparents about their experiences as Jews during WWII. I would listen to them and I could picture everything clearly: I wanted to understand their experience as deeply as possible. I believe film is the number one medium that enables us to see into other people, lives, worlds. It was never an option for me to only live one life.
When I was deciding what direction to take my career after finishing high school I realised I loved so many aspects of art making and was having difficulty choosing between them. Then I had a spectacular revelation that filmmaking incorporated a number of the arts I was interested in: photography, costume design, set design, acting, film, music, make-up, writing, and most of all storytelling. I started by doing a Certificate IV in Film & Video Production and knew before beginning the course I aspired to be a writer/director. I did a number of courses and worked on various projects before completing a Graduate Certificate in Directing at AFTRS in 2010.
DS: What inspires you?
KV: I find endless inspiration in the things I understand most and least; nature, emotion, men, myself.
My greatest inspirations storywise are from events I have experienced and feelings I have had. Making art is a way I can explore things I don't understand, or an idea that I would like to know more about. It's an insight into my world, who I am and how I became the person I am. I want to share my experiences with people and making films is the way I do that best. I express myself best through art.
For example, I am writing a project at the moment (Nightbird) inspired by my experience of having incredibly meaningful, platonic friendships with two men for the first time in my life. When I close my eyes and think about the events that take place in the film I envision a palette of stormy blues, bottle greens, grey, browns, blacks. I also know I want the tone of the film to feel exciting but constricting. Like a snake slowly coiling itself around your neck – the excitement of having a beautiful creature so close but not knowing how tightly it's going to squeeze. It's about a girl caught between the past and future, changing from an old self into someone unknown. So as I write, I am thinking about that feeling, of being on the edge of breath. Of taking risks that really scare her. Those real feelings inspire the story.
Someone once said to me 'make the art you want to see' and I really believe it comes down to that. I know the power I feel when I connect to a song, or sculpture, or scene in a film and I want to connect to others by doing the same.
I am also attracted to people that inspire me and am lucky that all my friends are incredibly creative, passionate, engaged people that always have an interesting project on the go. Hearing about their projects and interests inspires me and together there is a collective energy which I find exciting. Part of what I love about filmmaking is that it's collaborative – I love intense, productive relationships with people I care about. Nothing beats spending time and having fun with people you love and having something to show for it at the end of it.
DS: What projects have you been involved in, in the past?
KV: The most recent short film which I wrote and directed, The Bunker, is about a girl who decides to lose her virginity one afternoon after school. (DOP: Adam Howden)
I researched, directed and produced a documentary called Eliza which is currently in post production about a Eliza Kennedy, a woman who has laid buried in a lone desert grave since 1886. Eliza died when she was 32 years old and her epitaph reads 'Her charity covereth a multitude of sins'. Outback prostitute or hardworking widow – we travelled to Broken Hill, Milparinka, Tibooburra and a world of ghost towns, desert vistas and secrets that beckon from deep within the sand hills to interview locals and explore Eliza's story. The documentary focuses on Eliza, but inspires questions of life out on the land, drought and women in the past that paved the way for modern day women. (DOP: Leslie Marsh)
I had the priviledge of working with Theatre Director Jane Grimley on the stage production of The Bonfire, where I devised imagery inspired from the script and directed footage which was incorporated into the telling of the story and projected into the space during the play. (DOP: Simon Koloadin)
I am currently writing Nightbird which is about a girl who goes on a road trip with two male friends to search for an elusive nocturnal bird and learns through new friendship that she has an opportunity to finally let go of the past and come to a whole new understanding of herself.
I've been researching and co-writing a feature about Kate Kelly, the sister of infamous Australian bushranger Ned Kelly.
I am also researching and writing a feature called Promised Land (working title) set in-between Poland, Melbourne and Tasmania during WWII. One thread of the story is set in a concentration camp in Poland and the other is set in Tasmania, where a young man inspired by new love sets off on a solo journey to survey the land for the future Jerusalem, only to die in the south-west wilderness, leaving his last diary entries as legacy to his vision.
I also have a number of music videos and documentary projects at various stages of development.
DS: Without giving anything away tell us about the Bunker, was the subject matter difficult?
KV: The subject matter (loss of virginity, teen sex) wasn't difficult for me as I've always been very open about discussing and exploring sexuality. The film has been positively embraced by audiences with many people feeling compelled to thank me for exploring something not openly talked about. I wanted to show what the reality of losing virginity was like for a number of girls I knew. That not all girls desired the roses and candles experience, or had the opportuninty to have that. It was a sensitive subject matter to film and important that actors felt safe during the making of the film.
DS: What challenges have arisen when making films?
KV: Nothing beats filming outdoors in a National Park with a lightening storm, generator issues, helicopters landing and a fox on set! Luckily I had a brilliant crew that took everything in their stride!
Filmmaking is full of challenges. I realised after years of questioning why I would invite such great levels of stress and drama into my life that it must be part of what attracts me to it. I like problem solving, and problem solving with other people. It's intense, and interesting and I like the combination of different brains at work. The biggest challenge I have at the moment is how to have a decent income and enough time to work on my own projects, as well as attaining funding for my projects. There's always the challenge of learning new skills and tools and remembering to put yourself out of your comfort zone. As soon as you watch your footage you can see what you need to improve upon. It's confronting and exciting. I like that I can see myself becoming a better storyteller with every film.
DS: What do you have planned for the future?
KV: Kids, chickens, international film festival panel interviews!
Share
About Author
(0) Readers Comments