NOIR NOTEBOOK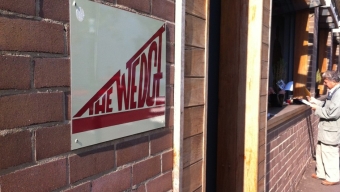 Where: 53-55 Glebe Point Rd, Glebe, NSW, Australia
Glebe is rubbish for food. There are  notable exceptions (Na Zdrowie, Toku Toku and Mamak Village) but given the length of Glebe Point Road the straits are surprisingly dire. Glebe Point Diner I suppose is okay for lunch but they also hate cooking a decent steak there.
It was with great interest, then, that upon leafing through the October issue of fourth estate food wankery that is Gourmet Traveller, I noticed that a new cafe in Glebe received a mention – notably for their Bloody Mary on toast*. I wasn't sure what such a thing entailed, but GT know their shit and lord knows I needed to try it. Sadly, I never got to see or taste a Bloody Mary on toast as it must have been removed from the menu the day after publication.
Tucked just off Glebe Point Road, The Wedge Espresso must pay the cheapest rent in Glebe.  A tall legged gent like myself would have a hard time sleeping across it width ways.  This may or may not be why its called The Wedge.  It also has one of the least inviting facades in Glebe and the combination of corrugated iron and exposed brick evokes images of Central Coast PCYCs and Mid North Coast netball kiosks. The signage is equally (◍•﹏•).
Thankfully the food, coffee and tea is not fairly represented by the exterior design. Clipper previously owned the Glebe cafe market**, but I believe The Wedge Espresso has claimed that mantle. Breakfast? Try the chai and date bircher muesli.  Not only will you get a fantastic muesli with some yogurt and fruit compote, it's also served in a bowl resembling Enya's birth canal. All yours for $9. Or you can grab the breakfast plate (the most expensive item on the menu at $14) consisting of a boiled egg. prosciutto, avocado toast, sliced tomato, yogurt and a hobbit sized bircher. My money, however, is on the bresaola and mushroom olive tapenade toasted sandwich*** with peppered with lemon thyme ($11).  It is stupidly good and (excuse the hyperbole) probably one of the best toasted sandwiches I can remember consuming in Sydney.
Seriously, these dudes know what they're doing with sourdough and putting shit either on or between said sourdough.  If you're there for lunch the pulled pork sandwich laden with corriander, mint, spring onions and plum sauce is a no brainer.  They had a very decent ploughman's on the menu a couple of months ago but that seems to have gone the way of the Bloody Mary on toast.  The bruschetta of tomato, ricotta, basil, and lemon with a lug of garlic and thyme infused olive oil ($7) is a cracker; splash out another $2 and get some prosciutto in there.  Assuming there is no chance of afternoon delight on the cards, what else would you want to eat on an autumn day at 3pm?
The Wedge Espresso also does choice coffee: an exclusive blend roasted by 5 Senses and they also like chuck on a single origin or two through the week. The more discerning black golder can grab a cold drip coffee over ice or pay a couple of extra clams for the filter coffee, gently brewed with hot water and resulting what the menu assures me is a "tea-like result showing the coffee's full flavour profile". Speaking of which, there are 7 different tea-like teas on offer, including one ice tea served with hibiscus, rose buds, rose petals and silver jasmine.  I've seen it (it's very attractive) but never ordered it because it's a bee's dick away from winter. I can vouch for the First Flush Darjeeling, though.  Get your Wes Anderson away with this astringent behemoth of pecan, green leaf and wood notes.
So next time you're purchasing knock off Wayfarers and Paul Simon solo albums from Glebe Markets, check out The Wedge Espresso across the road. It probably wouldn't stand out a great deal in Surry Hills, but that's okay because those fuckers are spoilt for choice and it's not in Surry Hills, it's in Glebe.
 *and the owner is ex Le Monde.
**On the subject of Glebe Cafes, wtf is Badde Manors doing being a vegetarian cafe but not advertising themselves as one? Are they trying to convert the public to vegetarianism in some kind of sick Gloria Jeans / Hillsong way?
***I refuse to use the term "toastie".  It is my fourth most hated word after "blog", "blogosphere" and "blogger".
Share
About Author
(1) Reader Comment